updated 10 june 2023
By Hélène le noir – Data consultant at daltix
Product matching tool for accurate comparison data
In order to make solid business decisions it is crucial to have access to the most accurate product and pricing data at your fingertips. Matching products across retailers in your immediate competitive landscape is an essential step in developing a strong product strategy. At Daltix, our product matching tool DaltixMatching makes it easy for you to follow products in your assortment at retailers of your choice.
How does product matching with Daltix work?
By providing Daltix with a list of products you wish to track, Daltix ingests these reference products, and lets our matching tool do its magic. Deep learning automatically groups products and then produces matching suggestions based on similar product properties using multiple algorithms. Over 90% of your matches are EAN-based matches, which are automatically approved since we know they share the same barcode.

This means less work for you and more time to spend on insights and forming your strategies! Any outstanding matches that are not automatic are made available for your review, based on suggestions using other algorithms, and neatly arranged in the tool for you to approve.
What if no EAN-match is found?
No EAN-match? Then you can look for suggested matches or even make matches on your own!
The review process has recently been made even easier with a handy Side-by-Side feature. This feature allows you to effortlessly compare quality metrics, descriptions, volumes, ingredients and Nutri-Scores in one easy view. It's the ultimate product matching comparison.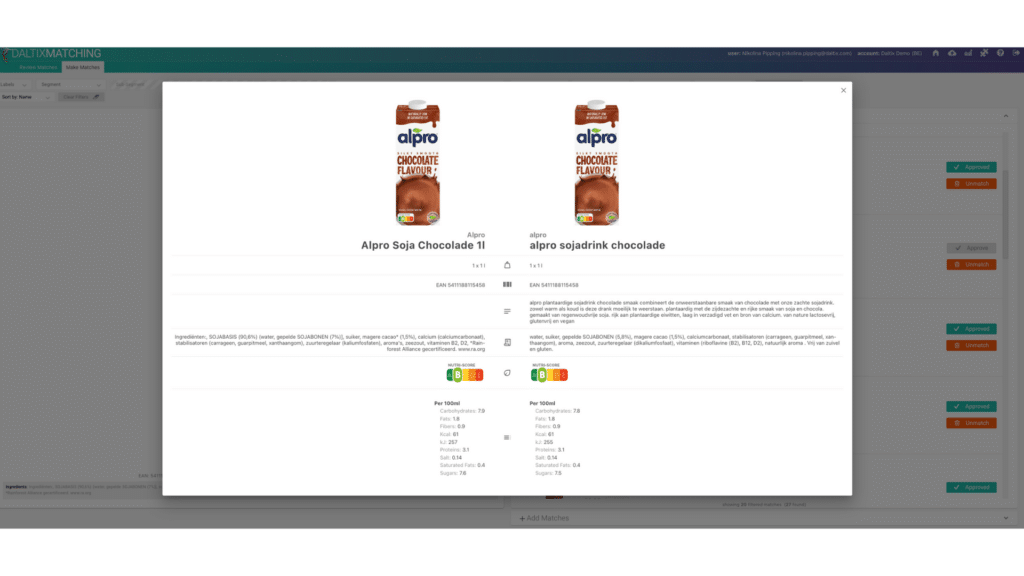 Benefits of effective product matching
Simply put, it saves time you might normally spend on manual and inconsistent data manipulation. Your matched reference products allow you to compare price and product information over time and across competitive retailers you choose to compare yourself with, in one user-friendly tool. You can be sure insights and decision making will be based on qualitative data you can rely on – fast.  
Ready to discover the power of DaltixMatching?
Contact us for more on DaltixMatching and its features!
We envision and build
the future of data.