We provide quality
retail
data you can trust
We thrive on making data work for you.
Product Matching

made easy.
DaltixMatching is an interactive data matching tool.
FMCG products are matched in three different ways to achieve the best results; fully automated EAN matches, suggested product matching algorithms and manually created.
The use of deep learning automatically categorises products.
 Data push into unstructured search optimised databases, such as elasticsearch, achieving better product matching.
Queryable relations between products that have certain similarities become automatically accessible in your dataset.
NEW FEATURE! Embrace the power of the new Side-by-Side product comparison. Effortlessly and accurately compare products with the competition. Compare quality metrics, descriptions, volumes, ingredients and Nutri-Scores in one easy view.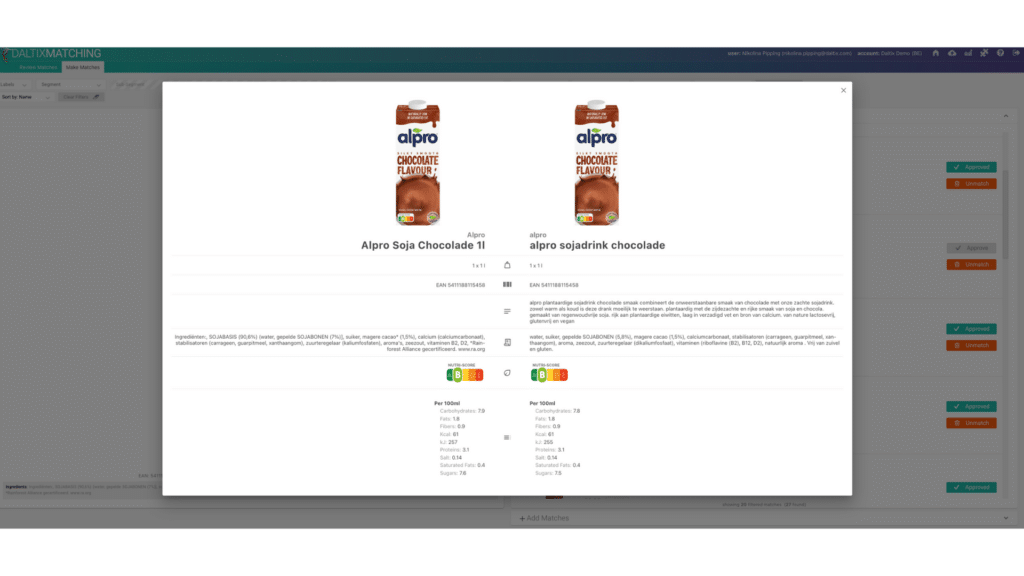 Retail data

you can trust.
The
data journey


at Daltix.
We collect information on over 8 million products every day.  
Structuring data requires a deep understanding of technologies for set-up, selection and maintenance.  
Data cleaning and quality

Processing over 35 million data points daily makes datasets very complete to gain insights from. 
Data storage, integration and analysis
Easily integrate Daltix data to other sources.  Data exchange via sFTP makes access seamless.
What our
customers

think.
By integrating Daltix's promotional information into our GfK Consumer Panel database, we were able to increase the added value for our clients. Our clients can now analyse in even more detail and, on a continuous basis, the impact of promotions on the FMCG purchase behavior of Belgian shoppers.
Davy Van Raemdonck
Director Consumer Panel - Belgium & The Netherlands GfK
By using Daltix data on a daily basis, Unilever was able to track the go-to-market speed of our innovations and measure the on- and offline availability of our products. This enables us to respond more quickly to changes in the market through our diverse teams.
Sven Lenaerts
Data Cloud Solution Specialist - Middle Europe
Having Daltix take care of the data we needed, helped us focus on the launch of our service, brand and operations. It's been a perfect example of letting the experts do what they do best.
Mattias Decuypere
Head of Rayon
GBFoods can rely on near real time data because of the daily data feed delivery from Daltix. This, plus the fact that human error in data management can be almost eliminated, allows us to make strategic fact-based decisions.
Wouter Neyrink
Revenue Growth & Perfect Store Manager
The latest
news

from Daltix.
Press
To make smart decisions, retailers need high-quality and reliable retail data. Those who have access to price, product and promotion data on a daily basis have a clear advantage. Daltix and Smartspotter are partnering and can now deliver both of their data expertise of high-quality data to Germany.
Read article
Integrity is our superpower.
We envision and build
the future of data.